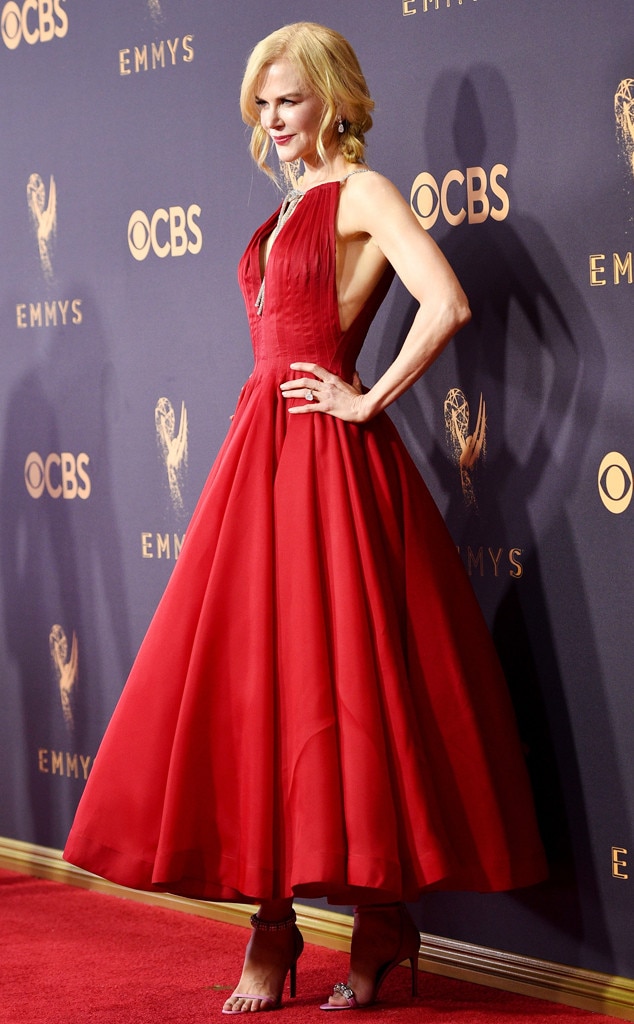 Stewart Cook/WWD/REX/Shutterstock
Do our eyes deceive us or did Nicole Kidman just wear mismatched shoes to the Emmys?
The Big Little Lies actress arrived on the red carpet of the 69th Annual Primetime Emmy Awards in a red, tea-dress-length Calvin Klein frock. Between the plunging neckline, full skirt and stunning jewelry, we almost missed the fact that her pink heels did not entirely match. One stiletto featured a bejeweled strap, while the other was left unadorned.
Don't worry—the A-lister didn't make a fashion faux pas in a rush out of the house. The pair (also from Calvin Klein) belongs together, with one shoe featuring crystal embellishments only on the ankle strap; while the other has the detailing on the bottom, toe strap.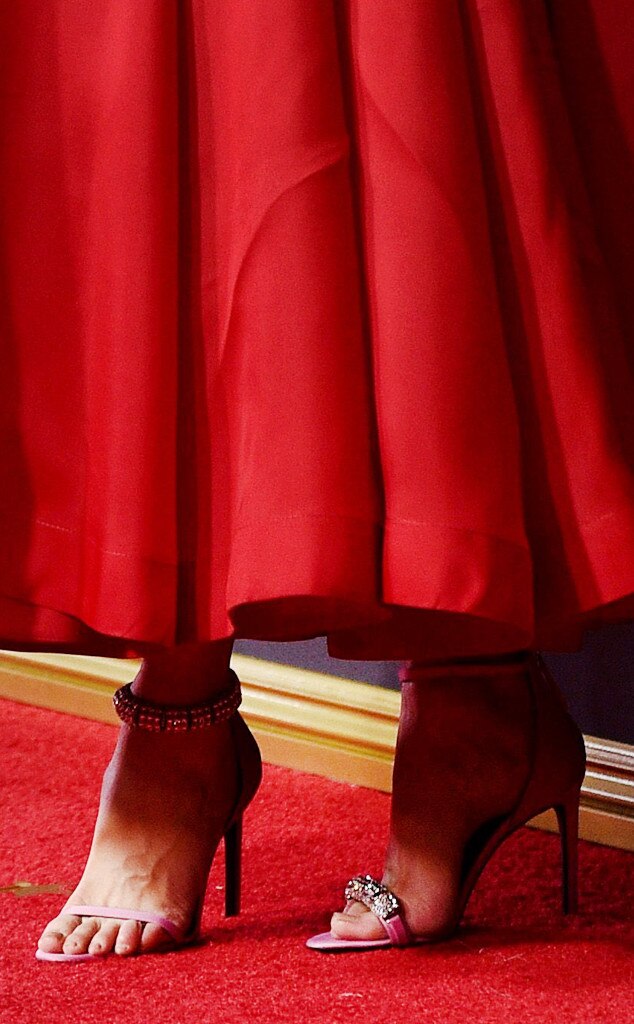 Stewart Cook/WWD/REX/Shutterstock
It's not the first time these Calvin Klein stompers has made a red carpet appearance. Naomie Harris wore the fall 2017 ready-to-wear stilettos in yellow for the Oscars. The actress showcased the shoes in their entirety by pairing them with an all-white, knee-length dress and long train.
In case you ever get dressed in the dark one day and happen to wear two different shoes, you can always pretend you're just a style savant. The mismatched shoe trend has been alive and well ever since Céline sent red and white, mismatched booties down the runway at Paris Fashion Week spring/summer '17.
In 2004, Dakota Fanning arrived to Rodarte's runway show in black-and-white, platform heels. The colors appeared in opposite order on each shoe. Considering the star was sitting front row next to Vogue editor-in-chief Anna Wintour at the time, we can assume this trend, albeit a bit odd, is high-fashion approved.
What do you think of the mismatched shoe trend?
Watch E!'s 2017 Emmy Awards After Party at 11 p.m. Don't miss E! News Monday at 7 and 11 p.m. and tune in to the Fashion Police 2017 Emmys Special, with guest co-host Erika Jayne, Monday at 8 p.m., only on E!