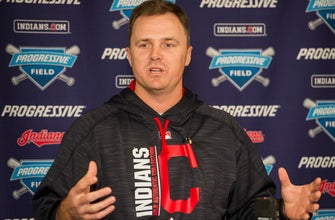 CLEVELAND (AP) The Cleveland Indians have raised a flag to commemorate their second straight AL Central title, and later they'll spray champagne.
It's a celebration, and they hope it's also practice for bigger parties ahead.
Cleveland clinched the division crown Saturday night when second-place Minnesota lost to Toronto. When the championship became official, the clubhouse was empty, as the Indians had left Progressive Field hours earlier following a win over Kansas City.
Before playing their series finale against the Royals on Sunday, the Indians gathered in front of their dugout and watched as a symbol of their accomplishment was hoisted, capping a week in which they ran off baseball's longest winning streak in 101 years.
The Indians have bigger goals. After losing the World Series in seven games to the Chicago Cubs last season, they believe this is their year to end a title drought.
—
More AP baseball: https://apnews.com/tag/MLBbaseball