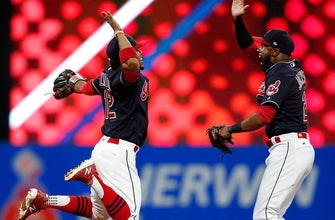 A look at what's happening all around the majors Saturday:
—
EXTRA! EXTRA!
Francisco Lindor has gotten an extra-base hit in nine straight games for the streaking Indians. The Cleveland shortstop extended his string with a leadoff double in the first inning Friday night against Kansas City. Lindor still has a long way to go to the major league record – Chipper Jones (2006) and Hall of Famer Paul Waner (1927) each got an extra-base hit in 14 games in a row.
HOUSTON HICCUP
Dallas Keuchel looks to bounce back from a lousy start at Oakland last weekend when the Astros host Seattle. Keuchel walked in two runs and forced home another with a bases-loaded hit-by-pitch during a 10-2 loss against the A's, lifting his ERA to 4.78 over eight starts since the beginning of August. Houston would like to get its ace left-hander on track before the playoffs begin.
MAYBE
Cubs shortstop Addison Russell hopes to return this weekend after being sidelined since Aug. 2 because of plantar fasciitis in his right foot. He's ready to work out before the NL Central leaders play St. Louis at Wrigley Field. Russell is hitting .241 with 10 home runs and 36 RBIs. Last year, he hit 21 homers and drove in 95 runs.
SET A MET
Mets star Noah Syndergaard will be evaluated after throwing a bullpen session earlier in the week. The 2016 All-Star hasn't pitched since suffering a torn lat muscle on April 30. Syndergaard was 1-2 with a 3.29 ERA before getting hurt. Manager Terry Collins said the team will determine the next step for the 25-year-old righty "whether it's another bullpen or use him in a game."