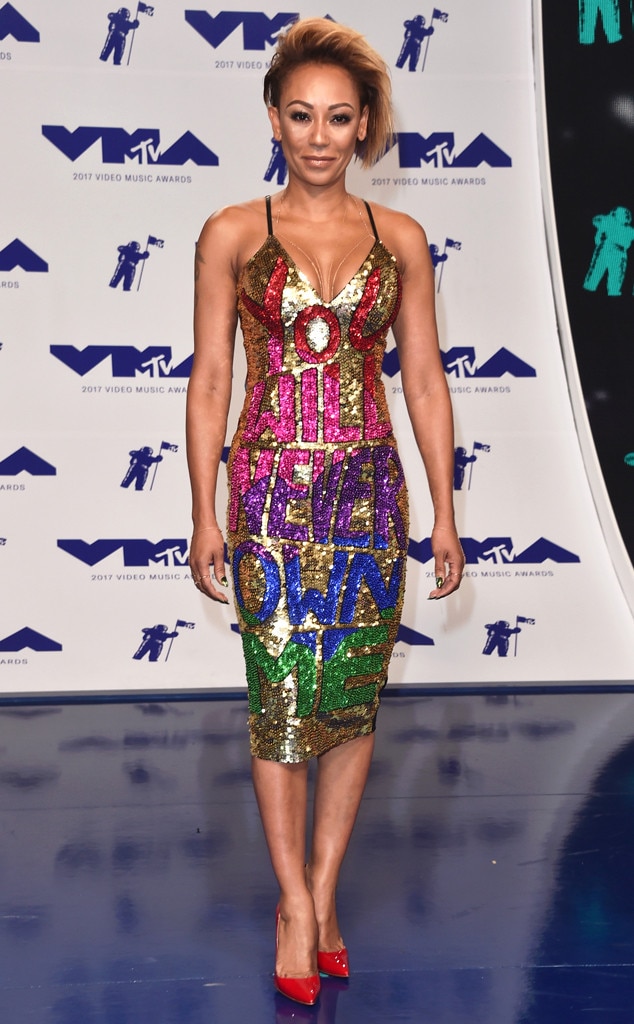 Alberto E. Rodriguez/Getty Images
Actions speak louder than words, but what about fashion?
When Mel B headed to the 2017 MTV Video Music Awards Sunday night with BFF Heidi Klum, the former Spice Girls member decided to make a statement with her dress.
No, this didn't include a wardrobe malfunction. And no, it's not a dress that reveals too much skin.
Instead, it's the words that have fans buzzing.
"You Will Never Own Me," the dress read as Mel B posed for photos at the Forum in Inglewood, Calif.
So what exactly could it mean? While the America's Got Talent judge is staying mum for now, fans can't help but realize that the singer is going through a public divorce with Stephen Belafonte.
In fact, the pair is experiencing a custody battle and other allegations.
Through all the drama, Mel B has been focused on working on America's Got Talent. Before arriving for tonight's award show, the singer got to ride with Heidi and showed no signs of feeling down.
"Get ready @vmas the super heros are about to tear it up," she wrote on Instagram. "#girlpower me and girl @heidiklum yiippeeee @amine BOOM."
That positivity is felt by many around Mel B including the rest of her co-workers on set.
"She is a very strong woman and a very wonderful, good-hearted, great daughter and mom," Howie Mandel recently shared with E! News' Will Marfuggi when asked about his co-worker. "I'm amazed at the strength and professionalism that she brings to the desk even though her heart is broken when she walks away and she's at home."
Watch the Fashion Police 2017 Emmy Awards special Monday at 8 p.m., only on E!