Millie Bobby Brown could make history tonight, and she's (naturally) freaking out.
The 13-year-old is nominated in the Oustanding Supporting Actress in a Drama Series category at the 2017 Emmys, which if she beats out Uzo Aduba, Ann Dowd, Chrissy Metz, Thandie Newton and Samira Wiley, would make her the youngest Emmy-winner of all time. 
She's rivaled by Roxana Zal, who was 14 when she won an Emmy for Something About Amelia in 1984. 
So how is the young starlet feeling only moments before one of the biggest nights of her life? "To me, I'm obviously very grateful," she told E! News' Jason Kennedy on the red carpet. "I haven't processed it. It hasn't sunk in."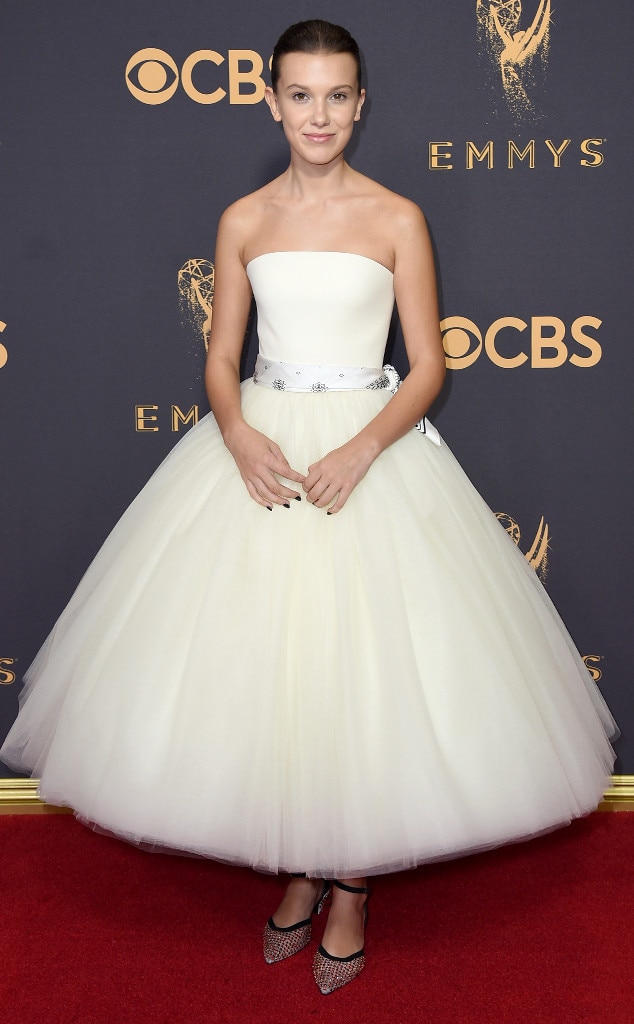 Jordan Strauss/Invision/AP
Brown is up for her stunning performance in Netflix's breakout thriller Stranger Things, which is also nominated for Outstanding Drama Series and already won five awards at this year's Creative Arts Emmys. 
The actress continued, "I think it should've by now but it still hasn't. Maybe when I set in my chair, and I realize. Right now it's pretty surreal."
But with such a demanding schedule, how does Millie indulge in some much-needed R&R? As she told us, acting really doesn't feel like work to her. "The vacation for me is going to work and going to set and meeting my castmembers… Going to school," the teen explained. "That is my vacation for me."
Of course, Millie isn't all business all the time. She's still a kid at heart, which is exactly why she hit a dab for her sister watching at home. "She's in London right now," Brown said. "I told her I would dab for you, Paige. I dab for everyone!"
Don't miss E! News Monday at 7 and 11 p.m. and tune in to the Fashion Police 2017 Emmys Special, with guest co-host Erika Jayne, Monday at 8 p.m., only on E!