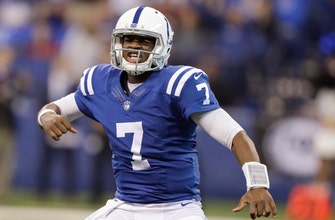 The Latest on the second Sunday of the NFL regular season. (all times Eastern):
1:16 p.m.
The Indianapolis Colts' quarterback change is already paying off.
One week after getting routed by the Rams 46-9, Jacoby Brissett replaced Scott Tolzien and helped the Colts take their first lead of the season 7-0 over Arizona.
Indy converted its first three third downs of the game after going 0 for 10 last week. After the Cardinals were penalized for leverage trying to block a field goal attempt, the Colts got another shot and Frank Gore punched it on a 5-yard TD run with 7:38 to go.
—
1:01 p.m.
The Jacksonville Jaguars and Tampa Bay Buccaneers began their games Sunday with tributes to those affected by Hurricane Irma.
Jaguars defensive end Dante Fowler Jr., who grew up in St. Petersburg and played at the University of Florida, carried the state flag onto field.
The Jaguars and first responders held a giant American flag during the national anthem.
Both teams and the Miami Dolphins, who play at the Los Angeles Chargers, wore "ONE FLORIDA" decals on their helmets.
Cynthia Welsh, of Sarasota, said being at the stadium in Tampa restored a sense of normalcy, if only for a few hours.
"I think it's really important because it gets people's spirits back up after you've been inside for so long and so afraid," Welsh said. "It's nice just to be able to be happy and be around other people. I don't think winning is important."
—
For more NFL coverage: http://www.pro32.ap.org and http://www.twitter.com/AP-NFL