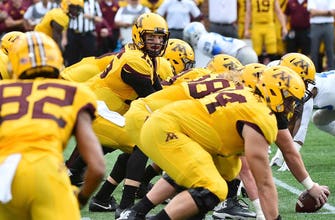 Wearing bright Goldy Gopher shoes, head coach PJ Fleck steered his football team to a 34-3 victory over Middle Tennessee that matched its uniforms.
Golden.
Minnesota, which wore entirely gold uniforms for the first time since 1974, forced its rushing attack down the throats of MTSU without the Gophers' top two running backs for most of the game.
Shannon Brooks and Rodney Smith, who combined for 183 yards and four touchdowns last week against Oregon State, handed the workhorse role to Kobe McCrary. Brooks didn't play and Smith was held out of the second half, both due to injury.
The Gophers' defense took advantage of a lackluster Middle Tennessee offense that was without its star quarterback Brent Stockstill. Minnesota picked off sophomore QB John Urzua twice to halt any Blue Raiders momentum, forcing its sixth turnover of this young 2017 campaign.
Here's a recap of Saturday's game (Story | Photos):
AP