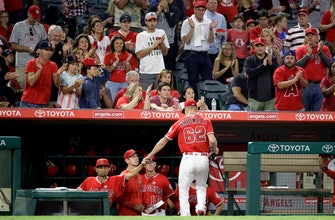 ANAHEIM, Calif. (AP) – Justin Upton hit two home runs, Parker Bridwell outpitched Cole Hamels and the Los Angeles Angels moved up in the AL wild-card race, beating the Texas Rangers 2-0 Saturday night.
The Angels closed within one game of Minnesota, which lost to Toronto, for the second wild-card spot. The victory also prevented Houston from clinching the AL West, leaving the Astros' magic number at one over Los Angeles.
Upton connected in the first inning and again in the eighth. He has 31 home runs and 103 RBIs this year with Detroit and the Angels – it's his second straight season with at least 30 homers.